Customer Journey's - INFINET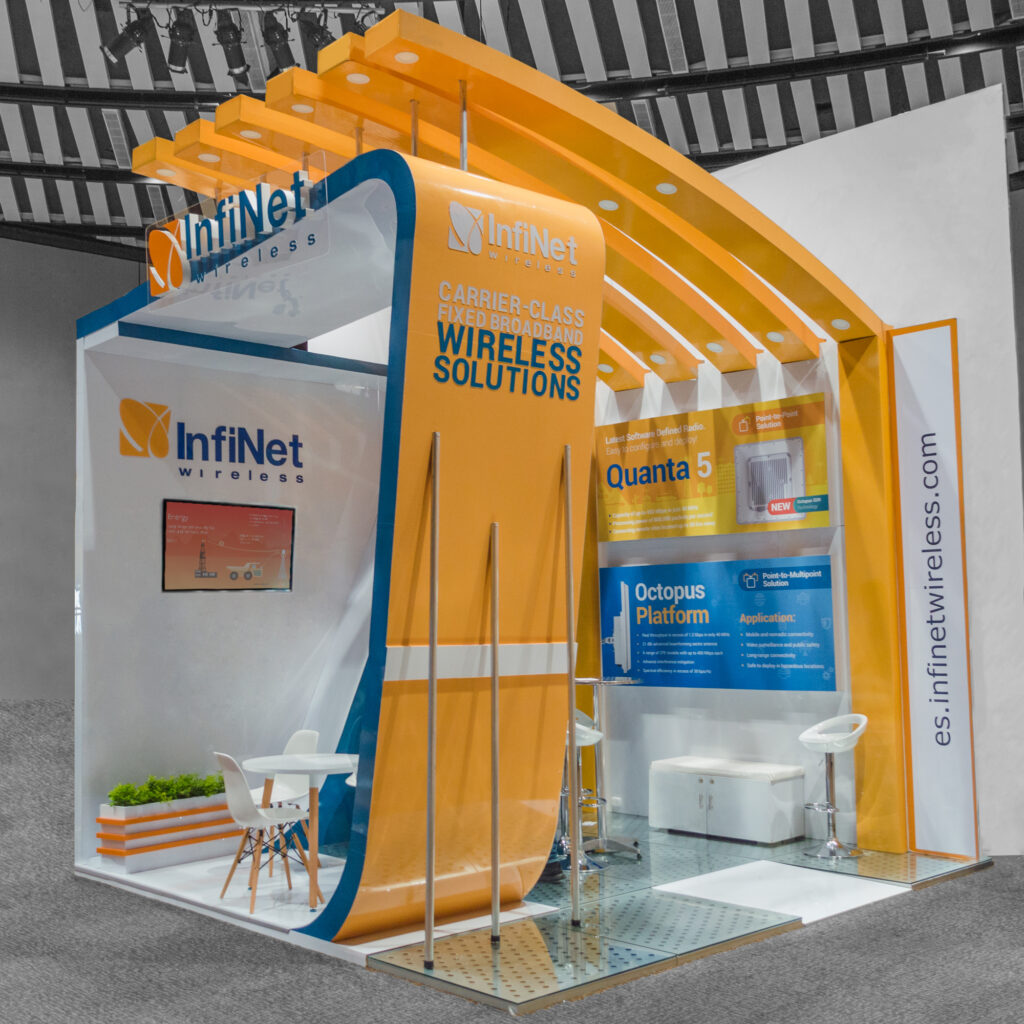 Infinet Wireless provides its customers with carrier-grade wireless solutions through a global network of highly qualified channel partners.
Wireless Communications Equipment
Infinet Wireless is one of the world's largest privately owned Broadband Wireless Access (BWA) development and manufacturing companies.
The Goal: Stand out at Trade Shows through unique and eye-catching designs.
With massive experience in international events worldwide, the Infinet team asks us to create new concept booth designs for its attendance at the ANDICOM Trade Shows.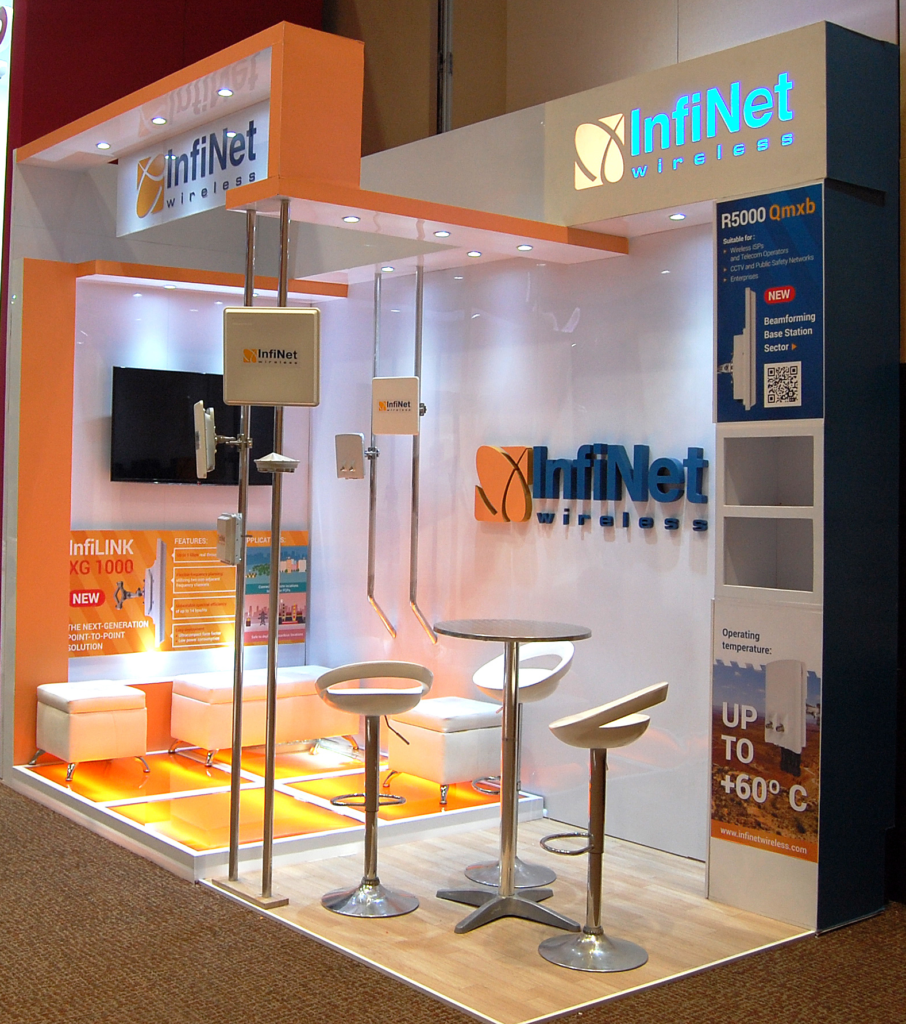 For the first show, our design team created a straight-line concept using the rectangular forms of its top products as inspiration.
We put custom pipes to exhibit the antennas and one rectangular side cabinet with internal shelves to store material and display more products. The backlit logo and illuminating platform were elements to grab attention.
Everything worked perfectly. They were pleased with the result at the trade show, so the challenge for the next project was to steal glances at first sight with something different.
"Good design is good business" – Thomas Watson Jr.
This next project should have room for a product exhibition, meeting zones, interactive videos, and attention-grabbing signs, so the design process began with several needs and challenges.
The first step for our team design was looking for inspiration, and we found it! The logo curves. Those lines allowed us to tailor all customer's needs and take us to boundaries to get an unprecedented project for our company.
We created a modern exhibition booth with motion through its curves. The colors keep the corporative brand values, using white to bring cleaning and depth to the project alongside open access for both sides and product displays.
Many details in just 4 x 4 meters:
Custom platform: tempered glass – laser cut perforated metal sheet
Metallic pipes trough structure for display products
Custom curves and walls
3D logo
Backlit signs
Solid letters on curve wall
Natural element
Open access for both sides + exhibition
The outcome was a stunning exhibition booth that instantly captured visitors' attention.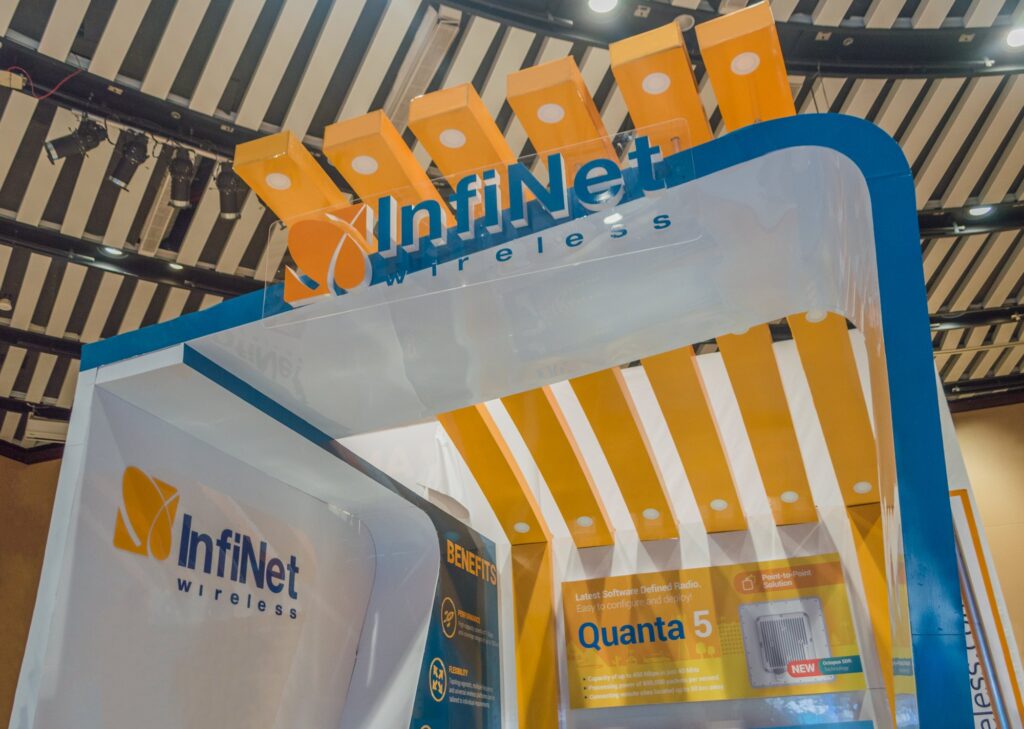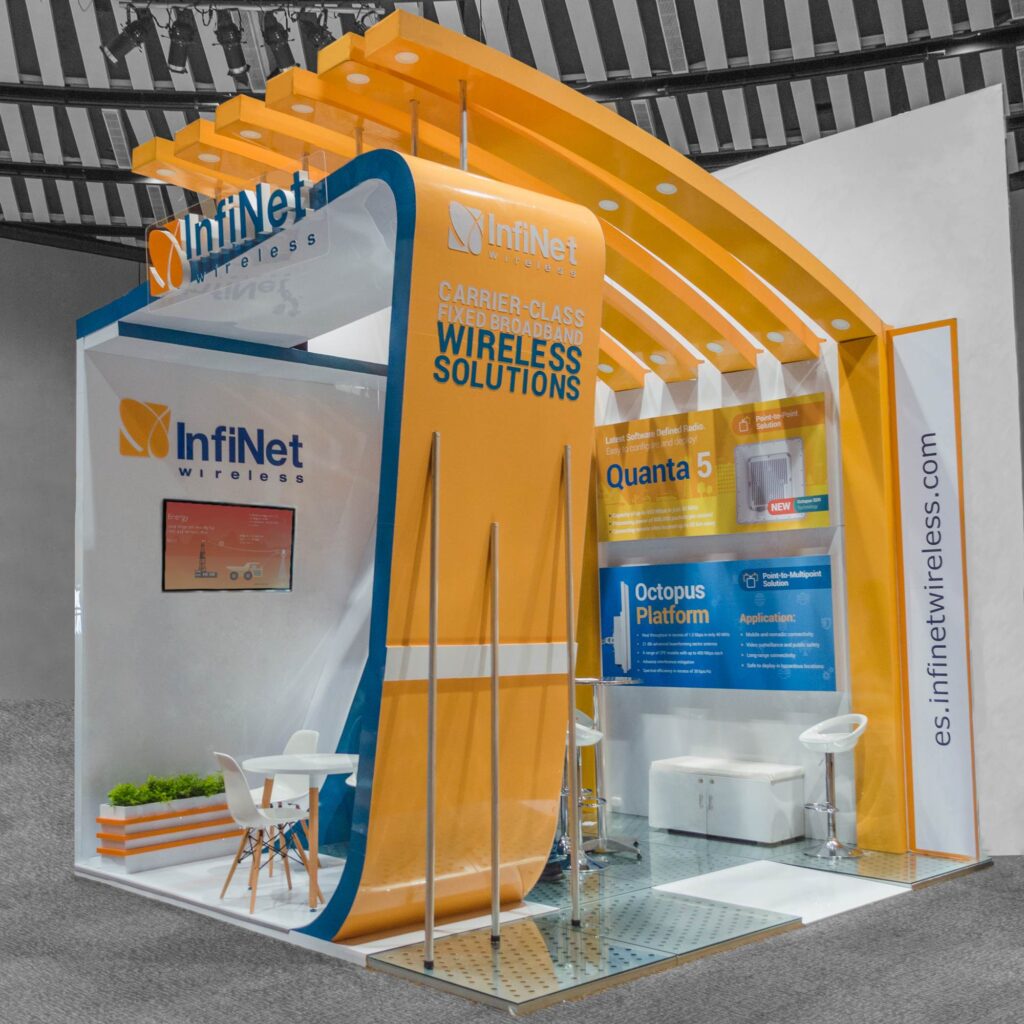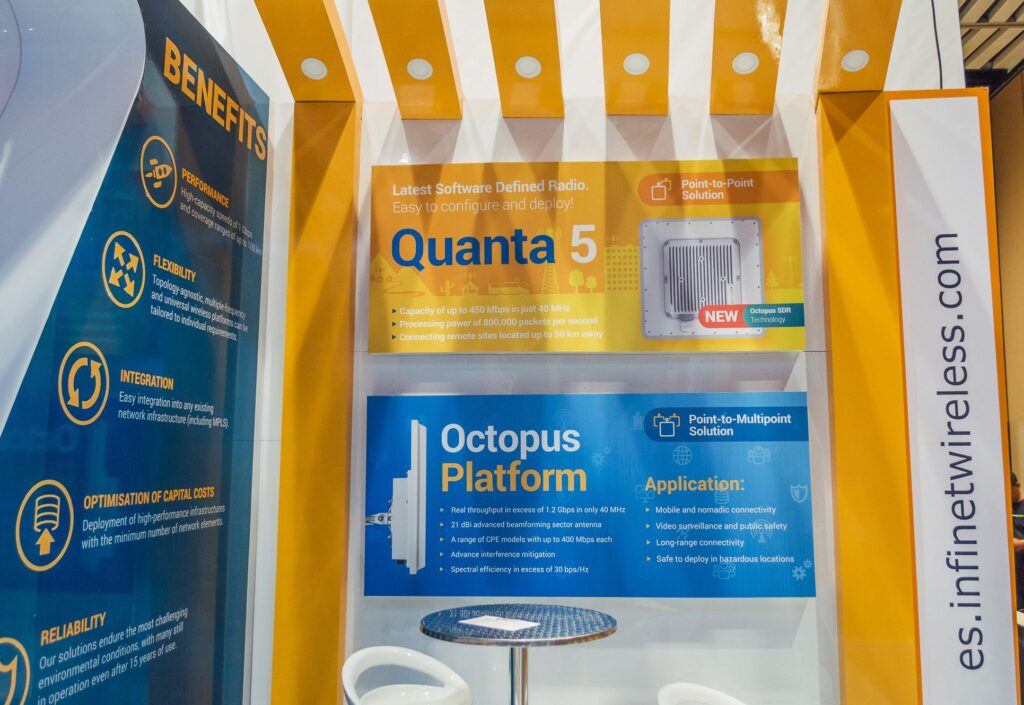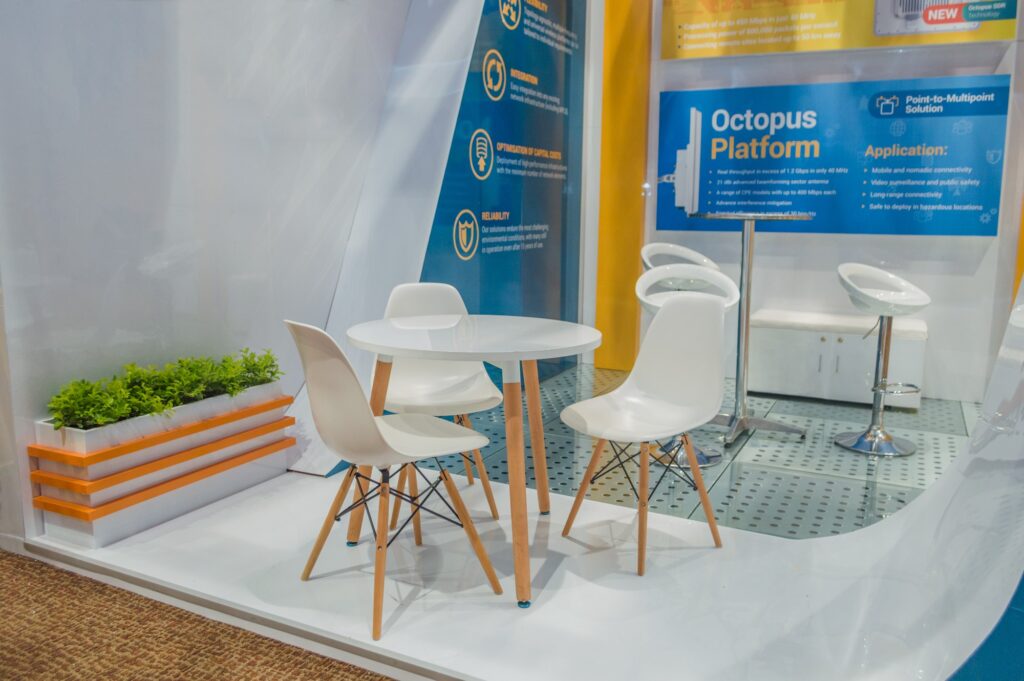 Now is the time to re-confirm our talent for the next trade show.
Challenges:
– New Brand book concept
– More space in the same location
– Private lounge space for meetings
– Looks outstanding

Solution:
Double-deck Trade Show Exhibition Booth

Following the new brand book, we did a project with some different features:
Blue light line at platform edge to remark the space
Lightbox counter
Natural elements
Doble deck for a private lounge
Metallic pipes for display products
Custom curves and walls
3D logo
Solid letters on curve wall
Interactive led screens
Storage inside the custom stairs
The marketing and sales team was boosting a new product; therefore, each module-led screen played an independent video from the controller matrix inside the stairs. This AV solution creates a dynamic environment and helps to communicate different messages in just one instant giving the booth visitor a better experience.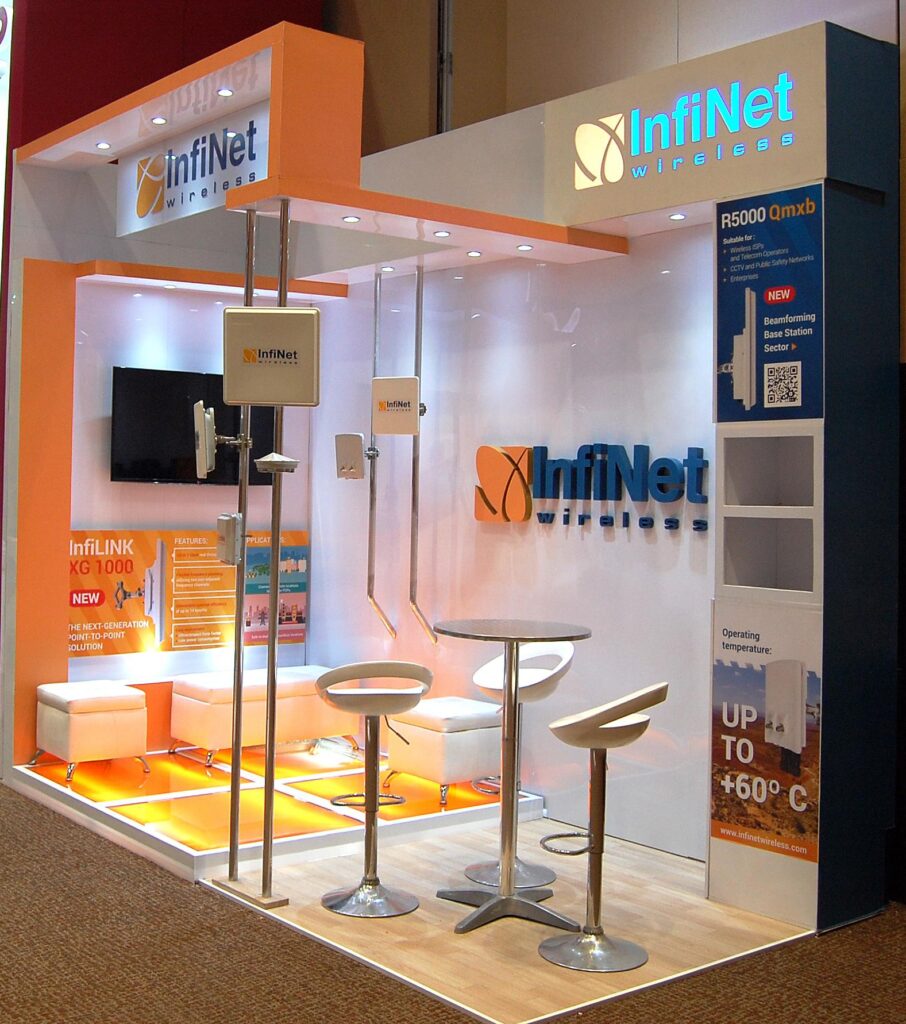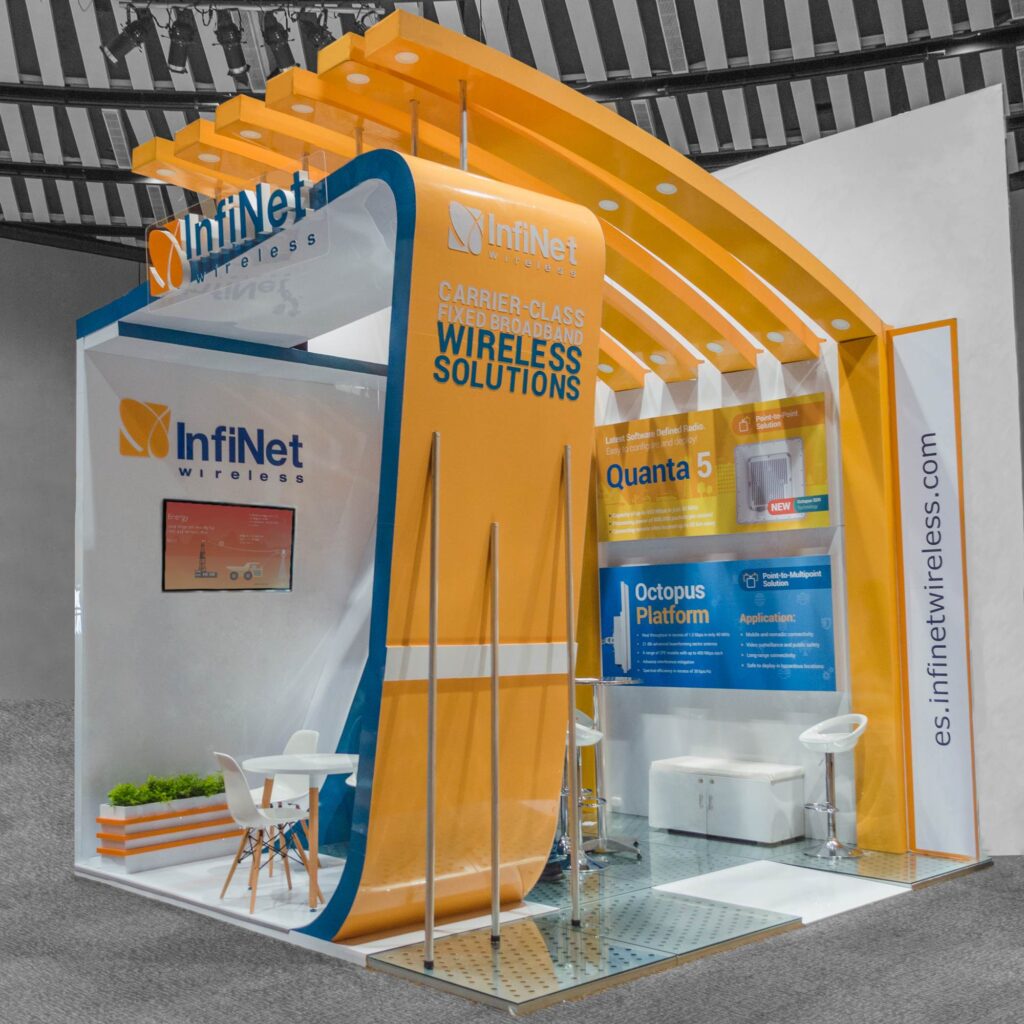 This customer journey brought out the positive in us and taught us to be more creative, thanks to the challenges during these projects. They repeated their purchase from Visualex because they found innovation and solutions to their needs with our personalized designs.
In today's trade show and event environment, it is critical to create unique and engaging opportunities that set your brand apart from other exhibitors and leave a lasting impression.
"Trade shows can be invaluable resources for learning about your industry and researching the market for a potential business." – New York Times